RIGHT TO WORK
Do you live in a Free State? Do you have the freedom to choose?
Do You Live in a Right to Work state?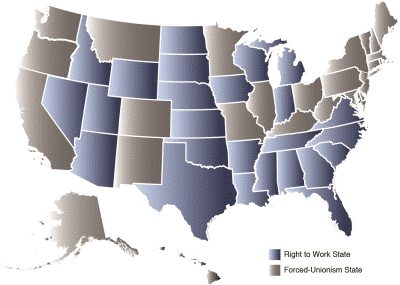 ORGANIZED LABOR in the United States achieved a milestone in 2009 that once would have been unthinkable: for the first time, union members working in government jobs outnumbered those working in the private sector.
According to the Bureau of Labor Statistics (BLS), the number of unionized private employees fell last year to 7.4 million. That represented just 7.2 percent of the private-sector labor force, the lowest proportion in over a century. By contrast, union membership in the public sector topped 7.9 million, or 37.4 percent of all federal, state, and local government jobs. The share of government workers belonging to labor unions, in other words, is more than five times the unionized share of the private sector. Union membership in private industry peaked at 35.7 percent in 1953 and has dwindled ever since. In the public sector, unions surpassed that level years ago and show no sign of weakening.
There was a time when even pro-labor Democrats objected to public-sector unionism. "The process of collective bargaining, as usually understood, cannot be transplanted into the public service," President Franklin D. Roosevelt wrote in 1937 to the head of the National Federation of Federal Employees. In the private sector, organized employees and the employer meet across the bargaining table as (theoretical) equals. But in the public sector, said FDR, "the employer is the whole people, who speak by means of laws enacted by their representatives in Congress." Allowing public-employee unions to engage in collective bargaining would mean opening the door to the manipulation of government policy by a privileged private interest. Continue reading  . . . .
John Stossel, May 30,2012
It seems intuitive that a free market would lead to a "race to the bottom." In a global marketplace, profit-chasing employers will cut costs by paying workers less and less, and shipping jobs to China.
It's a reason that progressives say government must step in.
So America now has thousands of rules that outlaw wages below $7.25 an hour, restrict unpaid internships and compel people to pay union dues. These rules appear to help workers. But they don't.
"Collective bargaining" sounds good. Collective bargaining "rights" even better. Employers are more sophisticated about job negotiations than individual employees, so why shouldn't workers be able to join together to bargain?
They should be. But in 27 states, labor laws force workers to join unions. When CBS offered me a job, I had to join AFTRA, the American Federation of Television and Radio Artists. I didn't want to. I don't consider myself an artist. I didn't want to pay dues to a union that didn't appear to do much. But I had no choice. continue reading . . . .
Job growth booms in now RTW Indiana
Indiana's popular Right to Work law officially took effect just over two monthsago — and the much-needed legislation is already paying off.
In fact, a new report by the Bureau of Labor Statistics shows Indiana is home to one of every eight new private-sector jobs created nationwide in April.
"We've seen good job growth over the last several months in Indiana but it looks like the nation as a whole was slowing down a bit. But last month Indiana just zoomed past the rest of the country in terms of job growth," Ball State University economist Michael Hicks explained.
This is just the latest in a growing body of evidence on the economic advantages of Right to Work laws, not to mention the strong moral case that workers should never be compelled to support a union against their will.
Of course, that's precisely why the union bosses are so eager to undo the reforms.
In one of their most absurd arguments, union lawyers actually contend that Indiana's Right to Work law violates the U.S. Constitution prohibition on slavery.
They have it intentionally backwards.
Union bosses know that for decades the courts have upheld Right to Work laws while acknowledging the fundamental conflict between compulsory unionism and freedom of association.
In fact, as recently as 2007 in the Foundation-won Davenport v. WEA decision, the United States Supreme Court reiterated that Right to Work laws are constitutional.
While the early job reports are encouraging, it's vital we continue to aggressively defend Indiana's Right to Work law every step of the way from these groundless legal assaults.
That's why two clients of Foundation attorneys filed an amicus brief in state court to support the Right to Work law.
The union bosses hope that by dragging out the battle in Indiana, they will also suppress the growing Right to Work movements in other states.  But as Indiana's stunning job growth proves, the facts will make every state want to be a Right to Work state.